Location
WHERE WE ARE
Just five minutes from the famous 'La Piazzetta' and a few steps away from Via Camerelle, the fashionable shopping street. The romantic Faraglioni beach can be reached in a twenty minutes walk.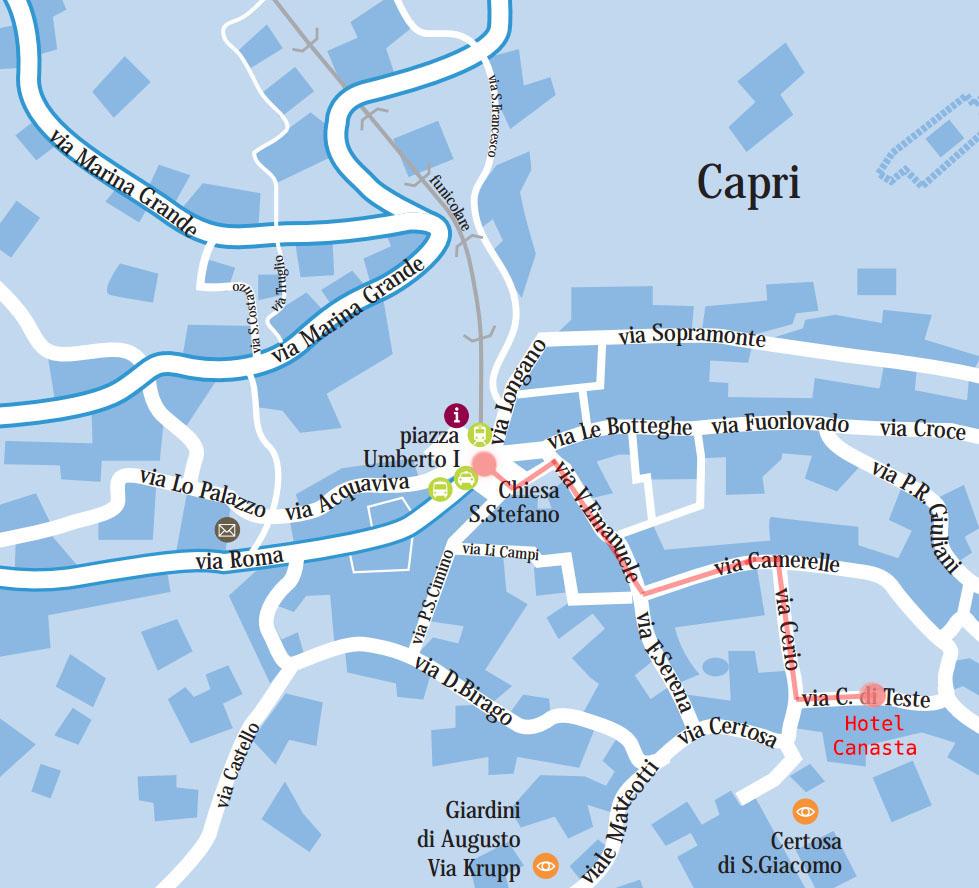 Here follow some useful information:
Taxi fixed fare in Napoli – from airport to Beverello Harbor: Euros 19,00 – from train station to Beverello Harbor Euros 11,00 Ask the driver to apply the fare "before" you get in the taxi
---
Bus shuttle Airport/Harbor The company ALIBUS connect the Airport and the Beverello Harbor by bus. The bus is direct to the harbor with a short stop at the rail station. The ride takes 20 minutes and cost Euros 3,00 per person.
---
Timetable boats and hydrofoils to Capri from all destinations: http://www.capritourism.com/en/ship-timetable
---
Alternatively, we can organize a private transfer. If interested ask via email the price. info@hotelcanastacapri.it
---
A cable car "Funicolare" connect, in 5 minutes, Capri Harbor "Marina Grande" and Capri center "Piazzetta". Price per person Euros 1,80.
---
Also taxi service is available at cost of: 1-3 persons Euros 15,00 4-6 persons Euros 20,00
---
A luggage transportation service is available from Capri harbor to the hotelat cost of Euros 12,00 per piece. The service is highly recommended if you have heavy luggage.
---
At the port of Capri, along with other small hotels, La Minerva and La Vega, we have a welcome service in the person of Mr. Giovanni. Since the harbor is always busy you may have difficulty in identifying him. For any help you can, alternatively, apply directly to the porters on the pier.